Good Evening, Fellow Dads and Granddads!!
Just a reminder: Firetruck1988 will be the Guest Blogger on Monday. Don't miss out on his blog, it's great!
Also we have a blog exclusive video from yesterday on the blog tonight!
I hope you all had a wonderful Father's Day. We didn't get to see much of Eagle Dads day because the cam was down for most of the day. When it did come back up about 4:45pm the kids were standing back to back like teenagers that had a spat over who got to lick the icing spoon. Harmony and Peace looked fairly contented so we infer they did have a meal at some point while the cam was off.They spent what we saw of the afternoon wingersizing, listening to thunder pass by the nest and watching a lovely sunshower fall. Dad delivered a de-feathered aquatic avian and left the kids to fend for themselves. Chatters were amazed at how polite they were about sharing the meal that was left for them. Harmony and Peace both acquitted themselves very well in the self feeding department until Mom showed up to finish the job. She fed them until they were full and then claimed the rest for herself. The kids lay down and pretended to sleep until she left and then they got up and played until darkness fell. Typical teenagers! LOL
On to the pics and vids!
The blog exclusive vid from Razzle!
Harmony nips at Dad after Peace scores another takeaway
MNBound Eagles Harmony Nips at Dad
A new vid from yesterday with Peace and Harmony moving a stick together
MNBound Eagles We Have a Stick
And another new one from yesterday of Peace demonstrating proper mantling
MNBound Eaglets Peace Mantling During Close Up Pan & Zoom
From today, H & P get playful while wingersizing
MNBound Eaglets Twirl & Hop
And the pics of the day from Razzle!
Is that a ribeye??? You guys do know we're hungry, right???
Your footwork needs refinement!
I don't care what you say, I'm never squeeing to you again!!
Lemme show ya how it's done!
Hey! You're standing in the runway again!
A flick of the flight feather to Razzle and BBC for the pics and vids today! Thanks!
Today was a special day for me as I spent Father's Day for the first time as a grandfather. Here's a pic of the future eagle watcher. She's going to help me with the blog in a few months!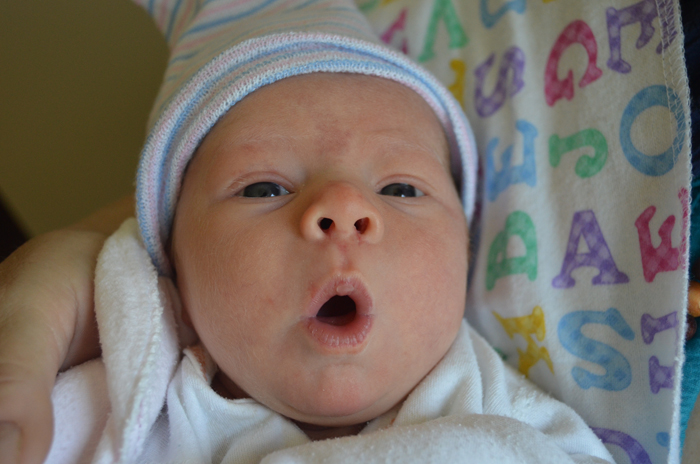 She's hungry all the time like our eaglets!
Hope you had a wonderful day and we'll see you here tomorrow!
TalonStrike
If you have any questions or comments, please feel free to post them below or in the chat room. Also, we'll be updating our official MN Bound LIVE Eagles Facebook Page regularly so you can follow along, like, or share with your friends. We have several site moderators this year to help give optimal information to all that want to learn more about these magnificent birds.